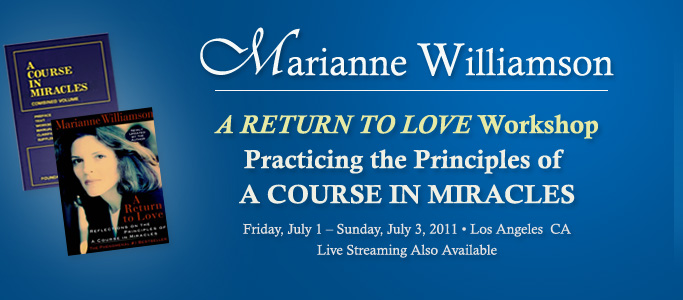 The first time I heard the famous quote from Marianne Williamson "Our deepest fear is not that we are inadequate. Our deepest fear is that we are powerful beyond measure…," I thought: Oh my goodness. What if she's right?! The idea that I am actually afraid of my own capacity for greatness turned my whole world upside down.  I didn't want to admit it to myself at the time, but I knew deep within that this was so spot-on.  I'd been telling myself all my life that I was afraid of failure.  Now, however, I could not deny that it was revealing my true, loving and perfect nature that was the real source of my fears.
Marianne's book, A Return to Love, was my introduction to A Course in Miracles.  Every line was like a little shot of truth and just like the old saying goes, the truth hurt.  I wanted to resist it.  A seed had been planted though and I had to know more.  I started reading the Course in September 2010 and have been hooked ever since.  I want to take the messages and principles of the Course and wear them like a dress.   This seems, at times, the only way to know for sure that I have taken them with me into my day.  My heart longs to remember the truth.
Since weaving the pages into clothing is a little out of my realm of talents, I have been committed to going to my weekly ACIM group, doing the lessons and listening to various teachers lecture about the Course.  Marianne Williamson happens to be one of my FAVOURITE lecturers on this topic and this Workshop next month is going to be amazing!!!
At first I was disappointed because the event is in LA, but when I heard it would be available through LIVE streaming I was thrilled!!!  We are so blessed to be living in a time where LOVE can be shared and spread so easily.  The internet is our friend 🙂
Some topics that will be covered are:
Forgiveness
Inner Peace
Our relationship with God
Our relationships with each other
Miracles
So I hope you'll join me in participating in this workshop.  To find out more and to register, visit http://marianne.com
Much Love,
Danielle xoxo