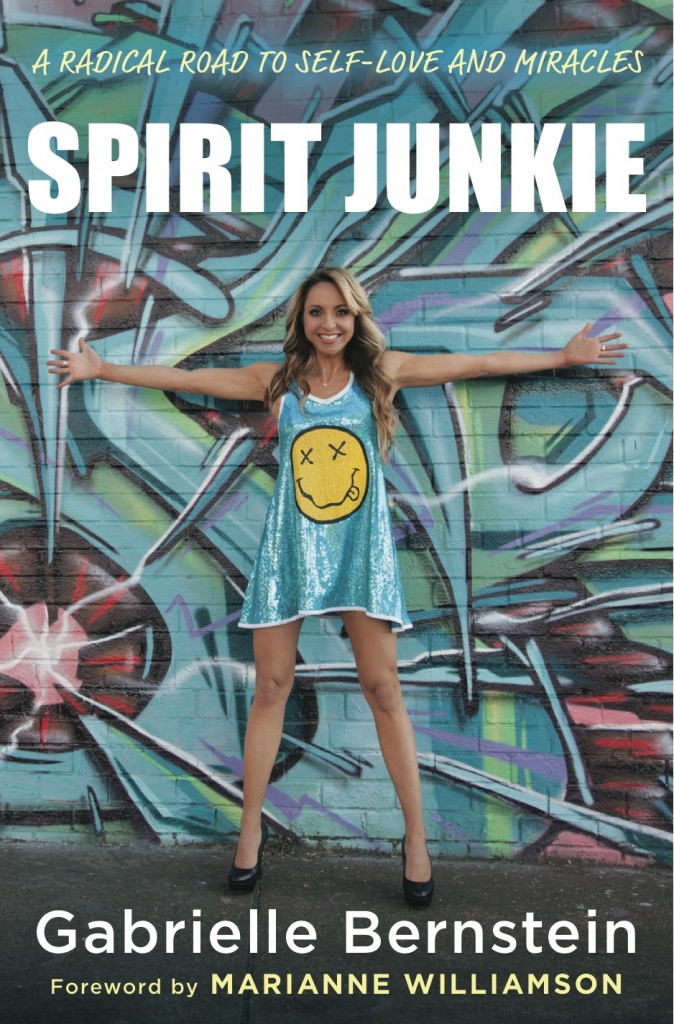 I love reading about a person's own spiritual journey.  It helps to see how I can relate to and learn from their lessons.  I recently read a book that does this.  It's irreverent, touching, honest and healing.  Reading this book is like being at a slumber party and an ashram all at the same time.  I felt like I was hearing deep, dark secrets and yet receiving divine wisdom all at the same time.  I was.
The book is Spirit Junkie by Gabrielle Bernstein.  I've been following Gabby since November of 2009, right before her 1st book "Add More ~ing To Your Life" came out.  This woman and her work have transformed me and my spiritual practice.  Yes, I did the work, but Gabby, and many of the women I've met through her social network herfuture.com, was a catalyst for me.  I feel so blessed to call these women, including Gabby, a friend.
Spirit Junkie is Gabby's memoir.  It recounts her journey from childhood, but mainly early adulthood where she has morphed from a high-stress, drug-addicted PR consultant to a sober, motivational speaker with a serious spiritual practice and a passion for forgiveness.  She's honest…very honest and shares her recovery with chill, approachable language.  Don't let that fool you for a second though.  This girl is wise.  Every problem has an insight, every insight a call for love & forgiveness.
Woven into each chapter are written meditations you can practice to deepen your experience of the lessons in the book.  I have the meditation album as well (it's available on iTunes).  The music is cool & calming.  Gabby's voice is kind & compassionate.  I highly recommend it.
Throughout the book she uses quotes from  "A Course in Miracles" and breaks them down so that even a novice can understand.  I rarely talk about it here on this blog but I am a loving, slightly obsessed student of  "A Course in Miracles".  This channeled text has changed my life in all areas.  It would take a book to get into how much I have been changed by it…so maybe one day I'll do just that 😉  Gabby references what she's learned from The Course often.  She even gives gems of her own like this one:
"Remember, the ego takes the fear from the past and projects it onto the present and the future."
Amen sister.  I have faith in my inner guidance system, but I also know that Spirit speaks through others.  It speaks through Spirit Junkie.  Writing about how listening to the Holy Spirit has helped her with addictions, she says the following:
"My addictive patterns began to subside.  The years I spent tormented by issues around food-overeating and obsessing about calories-were over.  Within a few short years those issues seemed to disappear.  I no longer needed food or a relationship or a credential to fill me up.  I was finally full."
I have had glimpses of this feeling….sometimes even long observations.  What I work toward hourly is having this as my constant experience.
Spirit Junkie is a calling.  Read Gabby's words, live through her journey, but know the work is yours to do.  It does not have to be daunting.  You have a guidebook now, and so do I.  I am committed to healing.  Let's do it together.
For more information on Gabrielle and her work, visit http://gabbyb.tv