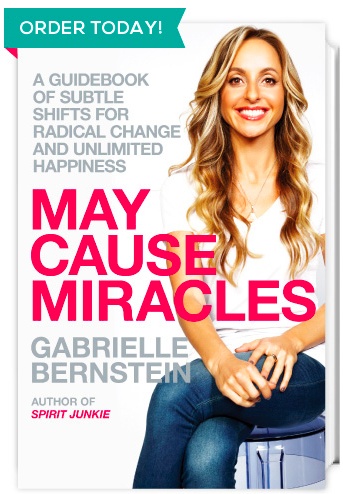 This past month I got to read May Cause Miracles, the latest book by Gabrielle Bernstein. And it's good…really, really good.
You see, like Gabby, I am a student of A Course in Miracles. I am committed to a daily practice of love and forgiveness for myself and everyone I meet. It ain't easy, but it has been incredibly rewarding. This work lights me up, makes me breathe a little deeper and spurs me on to spread the word!
The subtitle of May Cause Miracles is: A 40-Day Guidebook of Subtle Shifts for Radical Change and Unlimited Happiness. Oh yes it is! I cannot say enough about how this book is laid out. It's gentle, helpful and practical. Each day has a Morning Reflection, an Evening Exercise, an Affirmation and meditation with prayers and stories woven beautifully throughout.
You can do this. Anyone can do this! Gabby's writing is like that of an older sister's who is reaching a hand to us as if to say: "I've been where you are and I can help." All we need is willingness. And as Gabby says in the book, "A daily practice of willingness is our greatest guide to truthful forgiveness and release."
Some of my favourite parts of the book:
Day 5's affirmation: I forgive myself for choosing fear. Today I choose love instead.
ALL OF WEEK 3 (Body Image)
Day 24's affirmation: Kindness created me kind.
Day 29's affirmation: I am not my lack mentality.
Gabrielle sticks to the Course in a helpful and consistent manner. Her openness with her own struggles and the other stories she shares serve to illustrate that THIS STUFF WORKS. And it does. It really does.
The world we see is not one of love and peace, but it can be. We can choose again. We can let go of all our fears and embrace something better, something truer. May Cause Miracles can help us do that. But like I said before, this work takes willingness. So buy this book, borrow it from the library, ask a friend to loan it to you because if you feel drawn to this kind of change then this is a perfect place to start. There were so many instances through this book where I found myself shouting, "Yes!!! Exactly!!!"
A Course in Miracles is daunting, but the principles are, in my experience, key to finding any kind of peace. May Cause Miracles introduces you to these principles. It opens you up, softens you and reminds you who you really are and what you are capable of.
You are a miracle worker.
And once you start, you won't be able to stop because miracle mindedness is just better.
It just is.
♥