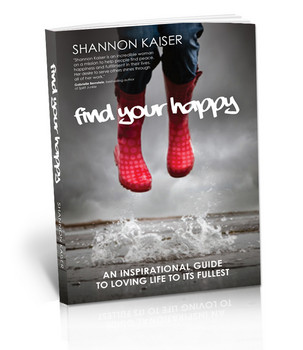 "I was living one big, carefully-crafted lie created to avoid feeling my real truth." 
Oh love, been there. The awareness and honesty of the above statement set the tone for rest of Shannon's wonderfully written and truly helpful book, Find Your Happy: An Inspirational Guide to Loving Life to Its Fullest.
I have read MANY self-help books and what some of them lack is depth. The author is usually honest about struggles, but he/she will gloss over them to get to the good stuff…their plan, their formula, their (shudder) diet. Shannon lays it all out there…the fear, the binges, the pity parties. She is transparent about her shift from victim to victor.
"When I let go of expecting my life to turn out a specific way, I was able to release the pressure and relax into the rhythm of life."
and
"By taking accountability for our lives and the situations we are in, we can learn to adjust our strained thinking and allow life to flow."
Flow. I was just talking about this in an interview. It's a word that gets thrown around a lot, but it is an honest-to-God state of mind. Shannon talks about the importance of seeing that your inner state creates your outer experience. As it says in A Course in Miracles, "Projection makes perception."
"The truth is we are always going to have enough money for what we need."
This statement was a Light Bulb Moment for me. It is so true! I have made money very special and often it is elusive and mysterious to me. Shannon's words made me think: what if I let go of my desire for money just as I am letting go of my desire for so many other things? Isn't it all the same?
"By eating whatever we want without guilt, we can love ourselves fully and embrace all that life has to give."
The key words for me here were: EATING WITHOUT GUILT. Shannon's ability to do this came as a result of tiny little shifts, busting through fears left and right. She gives plenty of examples of how you can do this. It does not all occur at once. In my experience, with willingness to let it go the fear will be there one day and then someday later it just won't be anymore. Surrender works.
"It takes guts to conjure up the courage to do things on the other side of fear"
Yes, yes, yes! Guts and willingness. Chances are if you're reading this review and thinking of reading Shannon's book you have both. Go for it. The tools are there. Find Your Happy is PACKED with helpful stories and resources.
I loved it. The writing is clear, concise and evocative. The layout is clean and easy to read. I highly recommend "Find Your Happy"!
Shannon Kaiser is the author of Find Your Happy, an Inspirational Guide to Loving Life to Its Fullest, and the founder of the inspirational website playwiththeworld.com, a site dedicated to helping others fall in love with their life, through articles, videos, books, podcast, lectures and more. She knows happiness and wellness, and shares her knowledge authentically and from her own, "been there and learned the tough way" perspective. An adventure girl at heart, her advice is shared with an uplifting, playful and motivational manner.
Shannon Kaiser has been labeled a true sparkling star by Healing Lifestyles & Spas.
She left her successful career in advertising to follow her heart and be a motivational speaker, life coach, and author. She is paving the way for seekers to find authentic peace and happiness. She is a four-time contributing author to the best-selling book series Chicken Soup for The Soul. Shannon's work has been featured in media outlets such as Good Morning America, Good Day New York, Inside Edition, KATU AM Northwest, MindBodyGreen, Tiny Buddha, Elephant Journal and The Daily Love.
♥