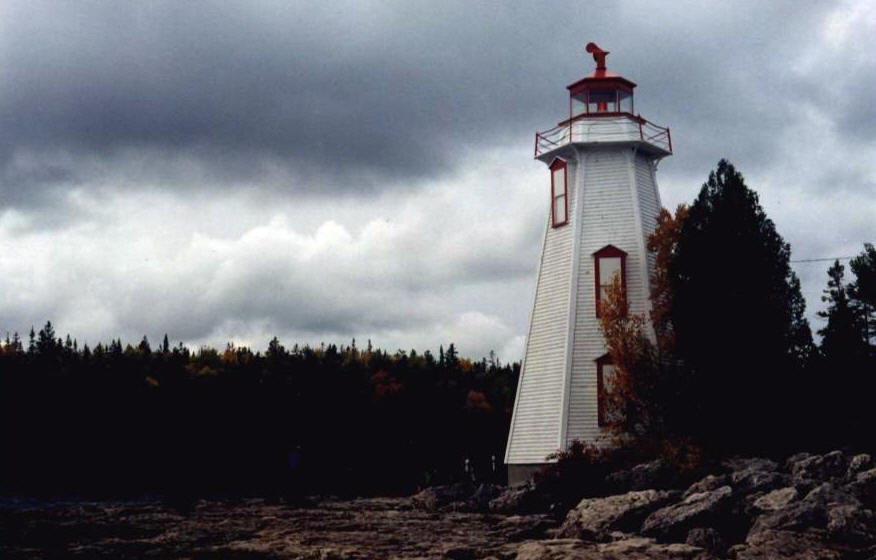 The Big Tub Lighthouse, Tobermory, Canada.
So I have been asked by the lovely Dielle Ciesco to participate in a blog hop with the intention of sharing our (and other fellow author's) books with the world. You can find Dielle's book, The Unknown Mother, here.
The questions:
1. What is the working title of your book or project?
Without Fear of Falling – A Novel
2. Where did the idea come from for the book or project?
It just sort of popped in my head. We have a family cottage near Tobermory, Ontario and I've always loved that town so the setting came first, then the character of Ellie and then the concept of reincarnation. Tobermory and its haunting beauty was the first inspiration.
3. What genre does it fall under, if any?
I always find this a little tricky. The novel has elements of spiritual, paranormal, romance and women's fiction. I think it can be read on a few different levels.
4. If applicable, who would you choose to play your characters in a movie?
This question is kind of funny because I already have a Pinterest Board devoted to this very subject! I think a few of them might be too old for the characters so I'll adjust a little bit here. For Ellie I still love Abbie Cornish and for Louisa it has to be Bonnie Wright. For Declan I'd go with Patrick J. Adams and for William I just love Jim Sturgess. And as for the parents I would pick my beautiful friend, Elise Ballard to play Ellie's hot,  young mom, Frances and then my hopeless crush, Rufus Sewell, to play Declan's dad.
5. What is the one-sentence synopsis of your manuscript or project?
After suppressing past-life visions since childhood, Ellie meets a mysterious stranger and is thrust back into a lifetime in 18th-century Britain.
6. Will your book or story be self-published or represented by an agency?
My book is being published with Soul Rocks Books.
7. How long did it take you to write the first draft of your manuscript?
The first draft took about five months and is almost unrecognizable compared to what's being published! That was a great learning experience and my editor, Amanda Berlin, was so key in helping me let go of what just was not working.
8. What other book or stories would you compare this story to within the genre?
I thought a lot about Possession by A.S. Byatt after the first draft was written. I think it has a similar feel though I would never compare my writing to the genius of Byatt.
9. Who or what inspired you to write this book or story?
Tobermory. Hands down. That and my own past life experiences.
10. What else about the book or story might pique the reader's interest?
The love stories. They're honest and flawed. I always like that in a book. I like hope and raw truth.
—
You can check out other posts in this blog hop here and here.